Kelowna: hot and dusty as expected, but once I quickly acclimatized, it was not that bad. We rode in the Myra-Belleview Provincial Park, where there are actually some sick trails for those who don't just like riding down.
We climbed and climbed, all the way up to the Kettle Valley Railroad (WTF is it so high up above Kelowna for!). But by that time, my rear hub was starting to not work properly (it would later turn out to be a broken hub axle, possibly tapered Maxle Lite related), so I had to take the descent chainless. It was a fun descent with some pretty gnarly rock sections, and through some burnt forest from the fire of 2003
I was pretty bummed about the axle failure, but luckily I got to take Bill's Ibis back to Canmore and he gave me permission to ride it. After listening to him complain about it wheelie-ing on steep climbs, but raving about it on the descents, I was eager to try it out. I took a quick stop in Revelstoke on the way back. I really enjoyed our 2 days earlier in Revelstoke and there was still lots more good trail that we had to ride (and there still is!). I opted for a quick ride on the ski hill side, and found some steep rocky trails, with flowy sections (I know, a pretty common theme on the Zest Tour). The Mojo was not wheelie-ing THAT bad. Sorry Bill!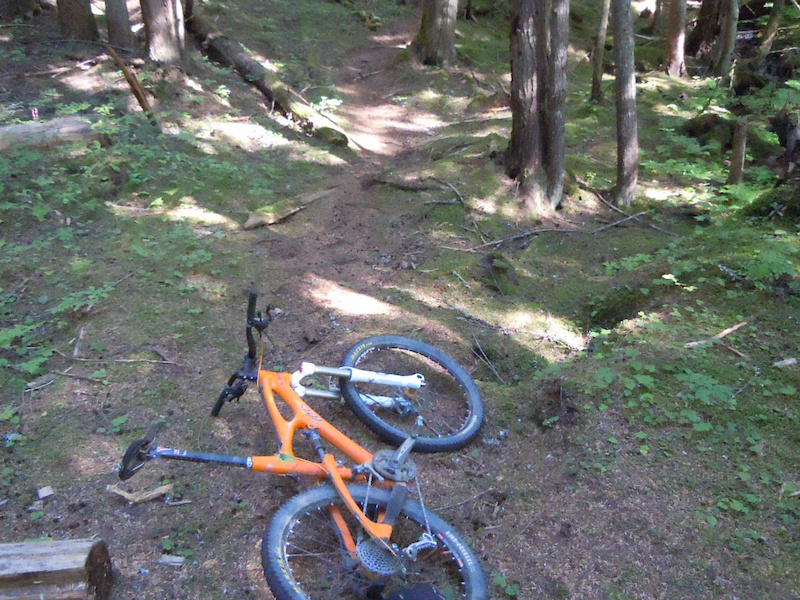 Oh yeah, I picked up my skis/boots/bindings.
New gear, guaranteeing it won't snow until December for sure. I'm not sure if that is a good or bad thing!
I decided that I still needed a little more time on Bill's Ibis, so I went for a quick rip at the Canmore Nordic Centre with the GoPro, riding a bunch of the old classic trails that real riders love
Canmore fun
on
pinkbike.com
After being spoiled riding some awesome trails for the previous week, it is extremely clear that the trailbuilders at the Canmore Nordic Centre are not very experienced. I know I have been harsh on them, but the vibes I am getting from them is that you cannot build fun AND sustainable trails, but after riding Revelstoke, that is simply not the case.
Finally back in Edmonton, I participated in the Hardcore Bikes trail day. Low turnout as some people were racing the first CX Tuesday nighter (SHAME!), but we got some good work done.
Zest tour: Lots of riding, lots of km's, lots of vertical m's (I GPS'd it all with my Garmin Edge, but I did forget to start it on occassion, so I don't have complete totals). I rode my super vesatile Marin Attack Trail with 2 wheelsets: Stans Arch/Supercomps with Maxxis Advantage 2.1 for more of the XC stuff, and the stock Mavic 321/Champions with Kenda Nevegals 2.35 for the rougher stuff. Bill rode his Ibis Mojo for the XC stuff, and his Santa Cruz Driver 8 for the rough stuff. All vertical descent was earned, EXCEPT Frisby Ridge DH for me (Bill drove the vehicle down), and Bill missed out on a short climb that I did to pick up the vehicle after Sale Mt.
Last year, we did Rossland (Red Top then 7 Summits and a short Kootenay-Columbia loop the next day) and Fernie (Roots-Hyperventilation-Extension-Ridgemont then Fernie provincial park, and the FAR trails the next day). Awesome riding either way, but this year worked out better: shorter travel times between towns = more time to ride.
Currently my Garmin maps are private, but if you want me to make them public (so you can study my heart rates and learn how to beat me) then feel free to leave a comment below.