The ERTC School of Cross and the Hardcore Hop 'n Hurl were the first 2 stops of the AB Cup, and came after a couple of hard Tuesday night races. It was hot on both Saturday and Sunday.
I always seem to race better in the heat as it seems I am less affected by it. That doesn't mean that I enjoy the heat, I just ride relatively better in it. I actually find that I usually fare well in tough weather conditions (not tough course conditions) like rain, snow, cold, hot, etc. It's like those "mountain bikers" (riders with amazing technical skills and riders who want others to think they have amazing technical skills) who hope for monsoons before their races so that they will do better. You would have to be a very sadistic person to enjoy ruining your bike, ruining some trails (I'm talking biblical monsoon, not just your average rain) and risking serious injury, but those tough course conditions allow them to finish higher.
Saturday's race (School of Cross) was going good (relative to the other riders of course), I had passed some people who had blown up in the heat and had my crosshairs on more riders ahead and was sitting around 10th, then on A CLIMB, I heard the psssssssssssss, flat rear tire, and I had to run the rest of the way to the pit (double pits are awesome!), and I didn't have a spare wheel, but fortunately Tracy hooked me up with one of his EC90SLs.
"Anyone have a less expensive wheel I could use?"
I was well back by the time all that running and wheel changing stuff was finished, but I rolled the rest of the race pretty hard and came in DFL @ 1lap.
Sunday, I was looking for redemption and boy, did I get some of that stuff. I had another good (again, relative to the other riders) race and saw some fantastic explosions. My turn for an explosion came with about 3 laps to go, but it was a small explosion and I only lost 2 positions. I think I finished around 8th or 9th.
So next weekend is the Dark Knight, Cross for Kids combo in Calgary but I'm not sure if I will race due to school. MT mentioned "Waiparous" an area I have been ogling as of late due to a certain hike-a-bike descent.... (I'm sure he was thinking more along the lines of 4 wheeling or climbing...)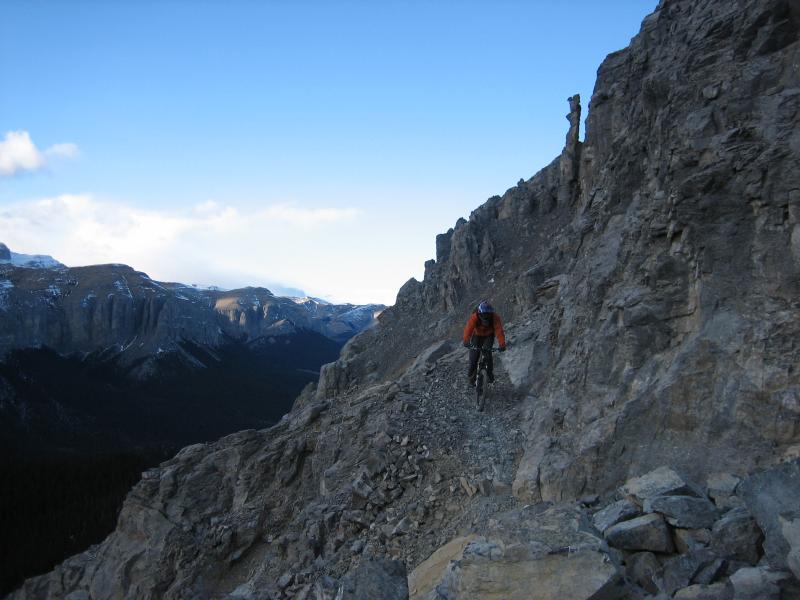 photo: not mine!