My interest in cyclocross has certainly waned over the years. There are now 17 races and it seems every course is the same: 100% grass, and run-ups, if there are any are short. Watch any run-up (if there are any) and you will see people who have signed up for every race in the series, yet haven't even bothered to learn how to carry their bike properly. Points go 18 deep, and 3 18th places gives a better start position than my one 4th place. At least the janky off cambers and awkward corners from 5 years ago are gone. When I first started racing 11 years ago, there was variety. Some weekends, we'd be racing on ski trails at Goldbar and Goldstick and have really long run-ups. Others, we'd start on the pavement or gravel, then venture out onto the grass.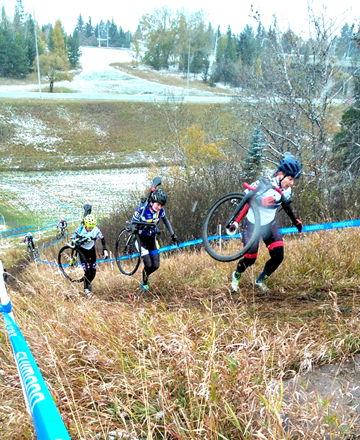 Shantel, Abby, and Bridget all carrying their bikes properly! Right arm under the downtube, grabbing the left drop. Left hand free! photo: Andrew Davidson
But I am certainly no authority on cyclocross courses in Alberta. The one race I did this year was almost more frustrating than it was fun. It was like NASCAR trying to work my way up before I was finally able to float my way up to the lead group by myself where the real racing began. Do Jeremy Powers cyclocross videos not provide any tips for after the first 2 laps?
Serious question: could CX courses be wider? Narrow is less competitive and tends to string out the race too quickly.

— Richard Banfield (@RMBanfield) October 20, 2016
I was planning on racing again this weekend, but after a complaint about the last doubleheader in Edmonton where races were held on a snowy course that deteriorated into mud, the city hastily decided to cancel the permits for the races. The cyclocross community was caught with our pants down. We know that the grass heals by springtime. But we haven't convinced the community and the city.
The city offered up Terwillegar Park as an alternative but the organizers politely turned them down going as far as to say that the park is the least suitable option for cyclocross in the city. Sure dodging dog walkers (and their out of control dogs), unclaimed dog poop, and large chunks of gravel isn't optimal. No, you can't have a 100% grass race there, plus it is way too late to reschedule and design a course. But to say it's unsuitable for cyclocross shows how homogenous this discipline has become. I've had fun racing dirt crits there before. Maybe it's time to dust off the mountain bikes. Why can't we allow wider tires and mountain bikes anyways?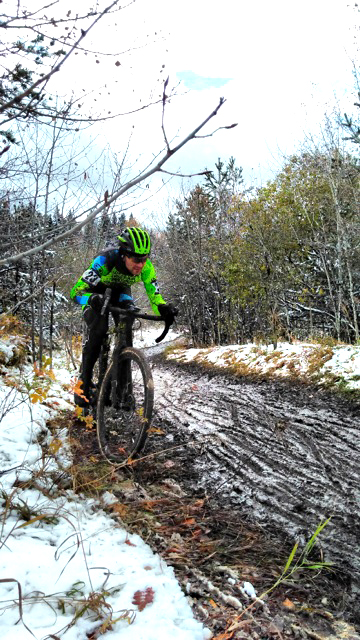 I think this muddy hill, and not the muddy grass was the straw that broke the camel's back. Some poor dogwalker got muddy feet on their normal loop. Too bad. photo: Andrew Davidson
Ok, here's an idea. Sure there isn't parking close by, so you can't haul your trainer, tent, spare bike, and spare wheels there as easily, but it's a park that nobody gives a shit about. Some decent climbs, and some trail that isn't just grass.
How about Sunridge?
My perfect cyclocross race? Long hill off the start to seed the riders properly. Some ski trails, some grass technical sections. Long run up. Barriers that can be hopped or run. Straightaways and corners taped wider than 3m. No dangerous descents, or driveside off cambers. Hop 'n Hurl 2017 at Goldstick, Kurt?