Well not much out of the ordinary has happened to me since school started which is about where I left off with my last post. Just a kajillion dollars in textbooks, 1 tonne of homework (157.5 stones for you luddites), and riding my bike in the snow during my spare time. Already looking forward to reading week where some snow covered mountains and trails will be slain. Mark that on your calendars.
So to fill the gap between then and now, here are some of the highlights in my life over the past year:
Delirium Dive did not open until late March, and I was there shortly after the gate opened, and got 8 laps in over the weekend. Complete with a huck off of the crown of an avalanche.
After training on the snow all winter, a new season began and I signed up with my new team: Hardcore Cycling Club on April 1, 2009. An awesome group of riders and a great shop as well!
A couple of mediocre races and a lot of suffering to start off the season, but with some luck and some perseverance, I found myself donning the Blue and White of Team Alberta for the 2 Alberta Canada Cups! My technical riding had also improved greatly since last year so I was pumped about that as well.
"You know it!"
I was pumped that I didn't get passed by Emily Batty, or lapped by Geoff Kabush in either race. Had an awesome time in Canmore with coach Tim Heemskerk (TTP) and some teammates.
After 2 straight weekends of suffering against some of the fastest in Canada, my form was starting to come on for a couple of victories (well just 1 if you don't count a toonie race, the beginning of my win streak over Jon Benskin...)
"I'm a rocket"
In mid July, there was a lull in the racing schedule, and some fun group rides were enjoyed. It was good that my riding had improved so that I could enjoy the W****mud trails! Also did a 180km ride, which is the longest that I have ridden.
Back to business in August at the Tour de Bowness in Calgary. Got another podium in the COP hillclimb, but the highlight was definitely in the criterium the next day where I won a prime. Not just any prime; a $100 prime!
Good form continued through August with a victory at road provincials followed by almost crashing while celebrating, and then a 3rd at the Alberta (marathon) mountain bike provincials. But the real highlight was getting chewing gum all over my fingers on the drive home from Hinton. Seriously, how does this happen?
"Why is this so sticky?"
School and cyclo-cross were up next, or so I thought... After having a decent showing at the first toonie race (although my win streak over Jon Benskin ended), a freak accident put me in an air cast for 3 weeks. WTF!
However, 2009 was the year of the comeback with Basso, Vino, Rasmussen, and Lance all making comebacks, and I made mine. 5 weeks after laying it down, I suited up for my first race...National Championships? Yup and I sucked terribly, but had a better race the next day and didn't get lapped by Kabush.
I raced the remainder of the races on the calendar, slowly improving after that setback. My season ended with a flat tire during provincials, but still was top U23 on the day (out of 2).
This one's for Josh
Ski season got an early start when notorious troublemaker Malcolm (MT), was itching to ski at Sunshine (SSV) on opening weekend. And so we did. The skiing was decent, but we were sketched out having to share some white ribbon of death (WROD) sections with ten billion other people, so the next day we headed up the road to Che$ter L@ke, for some human powered turns. Poor visibility kept us from reaching our potential, but we did see a moose! And we did like any good Japanese tourist and made sure that this was well documented.
As December neared, so did the closing of H1ghw00d P@ss for the season, and that was a damn good November in the Rockies, so we could not miss out on that! Unfortunately, our cameras did, but that is why they still sell disposable cameras.
Then on to my fall term exams, which I promptly destroyed. And then began the winter break, and if you read the post before, you will know how good it was.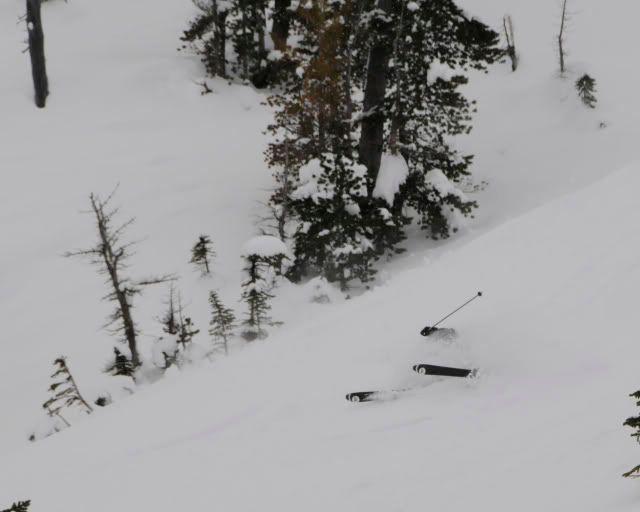 "Where did that creek come from"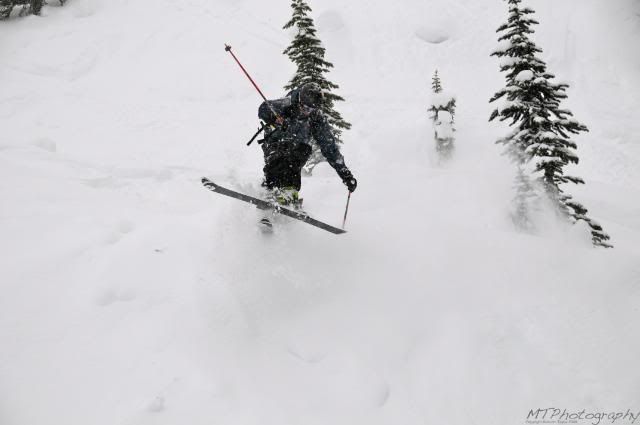 And a sick sequence of Bill done by MT:
And that leaves me with some goals for 2010:
-Finish my MecE 301 lab write up, due on Monday
-do more ski touring. Right now looking at a couloir, not sure if it has been skied, hopefully the stars align so that we can ski it.
-Race in the highest levels in Alberta (category 2, and elite)
-More cheers, more beers, that's it that's all!